Why Attend
Animal Health Investment Europe is dedicated to showcasing to investors the most innovative emerging animal health companies covering the companion, aquaculture and production animal space.

Emerging Companies Presenting
the number of investors from 2017
Innovation Showcase
The Innovation Showcase is a chance for emerging and pre-revenue organisations to pitch their company in front of a room of investors. 
We are excited to reveal the 12 Finalists selected to present on-site this February!
Please click the "Presenter Profiles" PDF below to discover the most exciting innovations in animal health for 2018...
The Agenda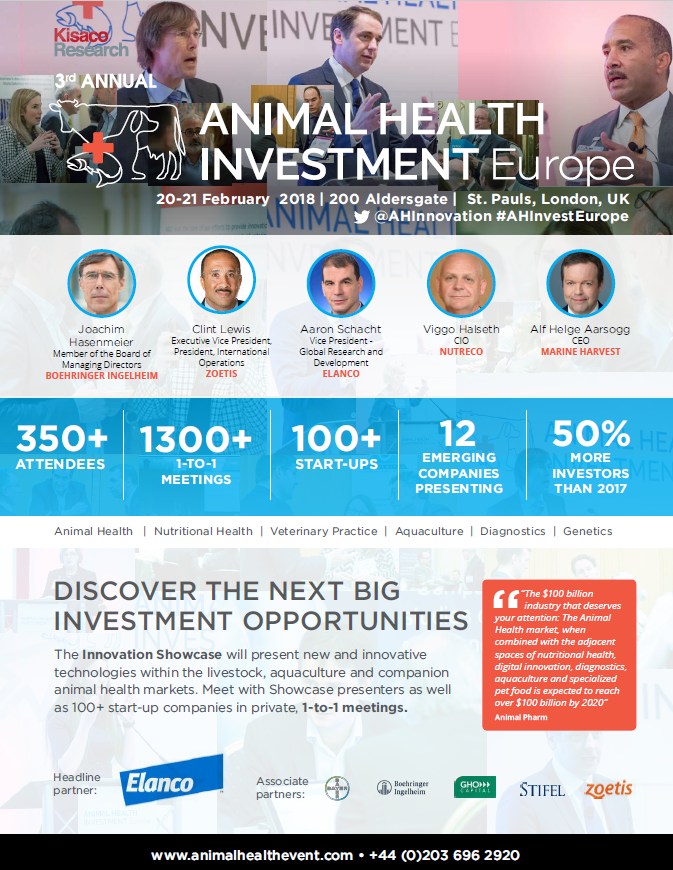 New areas of focus for 2018 include nutritional health, veterinary practice, aquaculture, diagnostics and genetics, with renowned speakers:

GENETICS:

Jonathan Lightner

, Chief Scientific Officer at Genus plc

FUTURE OF VETERINARY:

Simon Innes

, Chief Executive, CVS

AQUACULTURE:

Alf-Helge Aarskog

, CEO, Marine Harvest

DIAGNOSTICS:

Kevin S. Wilson

, CEO, Heska

NUTRITIONAL HEALTH:

V

iggo Halseth

, CIO, Nutreco
Download the agenda to find out more...
---
Animal Health Investment Europe, 2018 Agenda
ACCOMMODATION
Grange St. Paul's Hotel

10 Godliman Street, London, EC4V 5AJ    (0.6 miles from 200 Aldersgate)
To book a room please email: [email protected]
Rate per night: £286.80 includes vat & Continental breakfast.
Quote Group ID 190218B when booking
Please book by 30 January 2018

 
Crowne Plaza London, The City

19 New Bridge Street, London EC4V 6DB    (0.8 miles from 200 Aldersgate)
To book a room please email Seraya: [email protected]
or call her on + 44 (0) 207 438 8034
Rate per night: £259.00 inc. VAT & English breakfast
Always quote 'GA1 KISACO' when booking
Please book by 7 January 2018

 
Thistle City Barbican Hotel

Monday 19th February: £155 per night inc VAT and English breakfast.
Tuesday 20th February: £170 per night inc VAT and English breakfast.
To book a room please call +44 (0) 800 330 8002 (option 2 for Groups) or email: [email protected]
Always quote 'GA1K190218' when booking
Please book by 22 Jan 2018


Conference Packages
Sending Your Team? Group Discounts Available!
Applicable for Primary Market, Service Provider and Industry Rates Only. Not available for Academic or 'Start-Up' rates
Book a Team of 3+ - Save an Additional 10% Off
Book a Team of 5+ - Save an Additional 15% Off
If you would like to register a team of 3 or more, please email [email protected] for your discount coupon code before registering. PLEASE NOTE: Discounts cannot be combined with Early Bird Pricing or any other discount or offer. If you have any questions about your registration, please call us on +44 (0)20 3696 2920
We accept the following cards through Stripe:
Preparing registration...
Book a Team to Save More!
Book a Team of 3+ - Save an Additional 10% Off
Book a Team of 5+ - Save an Additional 15% Off
Payment Terms for Animal Health Investment Europe:
Please note that a £49 processing fee will apply to any invoices requested.
Any questions about your registration, please call +44 (0)20 3696 2920 or email us at 

[email protected]

.
All Prices are in GBP
All Early Bird discount prices, including Group Discounts, must be paid in full by deadlines provided above.
No discounts or offers can be combined.
Please view our Cancellation Policy.
* Emerging Companies are defined as early to mid-stage animal health pharmaceutical or biotech companies that are actively seeking financial investment or product licensing/acquisition. They must be engaged with this company on a full time basis. Those offering consultancy or market intelligence services do not qualify for this rate. *PLEASE NOTE – no additional discounts are available on 'Emerging Company' pricing. Partner discounts are ONLY available on 'Industry' pricing.
The Speakers
Aaron Schacht
Prior to this role, Mr. Aaron Schacht was the Vice President of Global Research and Development / Regulatory Affairs at Elanco Animal Healthheld. Before that, he held the role of Global Brand Development Leader – Pain in Lilly Biomedicines. He was the global leader for product development and commercialization activities for LY2951742 – Lilly's novel CGRP neutralizing antibody – a new potential treatment for prevention of Migraine and Cluster Headache. In 2012, Schacht joined Lilly Biomedicines as Senior Advisor – Strategy & Business Development for Lilly BioMedicines. His responsibilities included oversight of Therapeutic Strategy development, R&D Portfolio Management, and Business Development for Lilly BioMedicines – Lilly's largest business unit. Past roles included serving as Executive Director, Global External R&D, at Eli Lilly and Company, where he was responsible for implementation of strategies which aim to leverage novel approaches to external partnerships to augment Lilly's access to pharmaceutical innovation as well as Executive Director of LRL (Lilly Research Labs) Strategy, Portfolio Management and Project Management where he was responsible for strategic planning, R&D portfolio and project management. Prior to these roles, he was Director, Innovation Center in the eLilly organization where he focused on the exploration, incubation and implementation of new business models and capabilities relevant to the strategic evolution of the pharmaceutical industry. In 2002, during a short leave from Lilly, Mr. Schacht was co-founder, President and CEO of Artesian Therapeutics, a Gaithersburg, MD cardiovascular drug discovery start-up. Mr. Schacht began his career at Lilly in 1990 as a medicinal chemist, and spent 5 years in the laboratory working to discover pharmaceuticals to treat cardiovascular disorders. Schacht studied Organic chemistry at the University of Illinois, receiving his Bachelors of Science degree in 1990.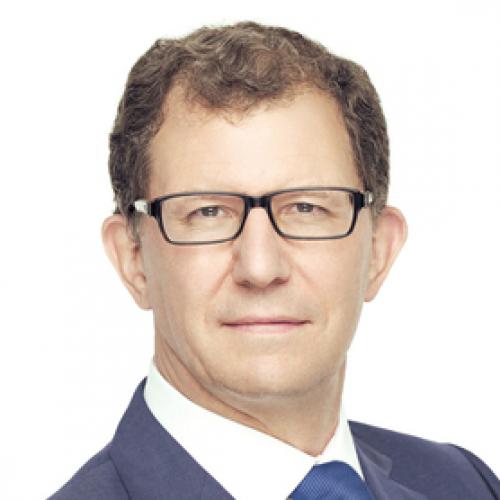 Alan Mackay
Executive Partner and Founder
Alan has been a private equity investor for more than 25 years in roles including Senior Partner and Global Head of Healthcare at the private equity firm 3i Group plc. He was appointed to the board of 3i plc in 1993 and became CEO of 3i Nordic plc, based in Stockholm, upon the acquisition of Sweden's largest listed private equity company Atle AB in 2001. Alan has served on the boards of a number of healthcare companies, including most recently Phibro Animal Health Corporation which completed a successful initial public offering (IPO) in April 2014. Latterly he has been Managing Partner, CEO, and Chairman of the Investment Committee, of Hermes GPE, an active co-investor in private equity backed healthcare. Alan holds a Bachelor's degree in Law, an MSc in Enterprise and is a graduate of the Advanced Management Programme at INSEAD. He is Chair of the BVCA for 2016 – 2017 and previously chaired its Responsible Investment Advisory Board.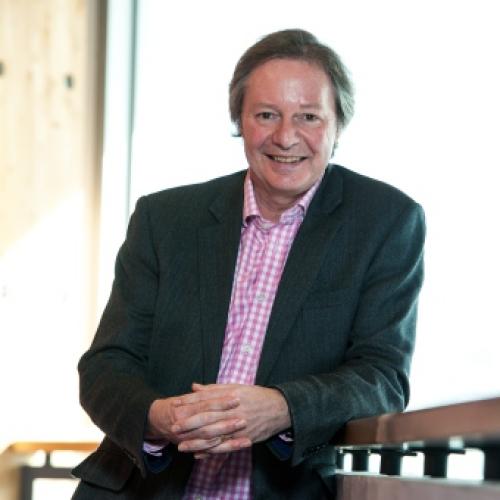 Alasdair Cook
Veterinary Health Innovation Engine (vHive)
Alasdair "Alex" Cook is a veterinary epidemiologist with more than 25 years national and international experience in livestock animal health in Government, academic and development environments. He joined the new School of Veterinary Medicine in January 2013. Previously, he worked in the Animal Health and Veterinary Laboratories Agency (AHVLA) where he was a senior member of staff engaged in leading research and surveillance programmes as well as part of the senior management team formulating strategy and implementing change. His interest in epidemiology grew from working in farm animal veterinary practice in the UK and in preventive veterinary medicine. A decade of overseas experience in Yemen, Zambia and Mexico working with poor rural communities underlined the important role that veterinary epidemiology plays in supporting animals in sustainable livelihoods and poverty alleviation. A professional life engaged with and leading multi-disciplinary teams makes Alex a natural proponent of the One Health perspective.
Alf-Helge Aarskog
Mr. Aarskog has served as CEO of Marine Harvest since 2010. Prior to this position, he was the CEO (2009 to 2010) and Exective Vice President (2007 to 2009) at Lerøy Seafood Group ASA. His previous positions include Managing Director (2004 to 2007) of Lerøy Midnor AS, a subsidiary of Lerøy Seafood Group ASA, and Head of Production (2002 to 2004) at Fjord Seafood ASA, a company that was later merged with ours. He holds a degree in Fish Nutrition from the University of Agriculture in Norway.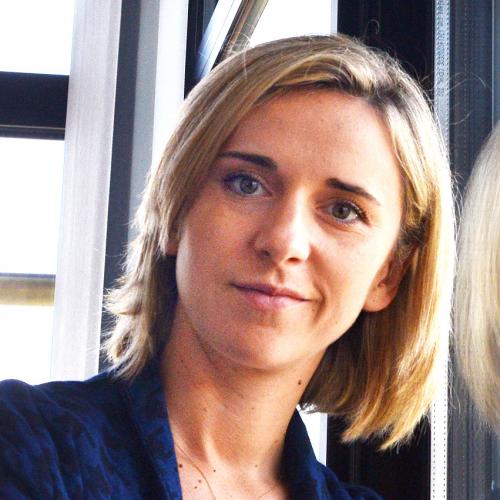 Anne Chauder
Anne Chauder is the third generation at the head of a French independent family group of 350 employees, pioneer in animal health. In 2003, after studying Management, she chose to bring her skills to the family business. She became Executive Director in 2012 and then C.E.O in 2016 with aims to prepare the Dômes Pharma Group to address its third great evolution: digitalization and internationalization.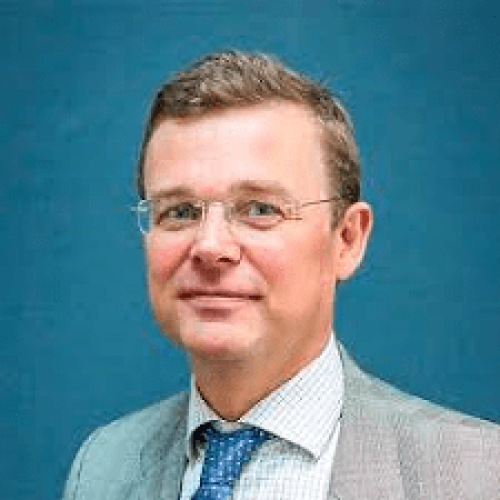 Carel du Marchie Sarvaas
HealthforAnimals Global Animal Health Association
Carel du Marchie Sarvaas has been working as a senior government affairs and communications advisor in Brussels and Washington DC for 20 years.
He will move to IFAH from EuropaBio, the Association of Biotechnology Industries, where he has been Director for Agricultural Biotechnology for some 4 years. Prior to EuropaBio, Carel worked at international consultancies and think tanks in Brussels and Washington DC, most often serving clients with science-based policy and communications challenges.
Carel is experienced in the interplay between regulatory, political and communications issues as they relate to science, innovation and policy. A Dutch national, he is married and has four children. He has lived in South Africa, Canada, Brussels, and Paris and holds degrees from the University of Leiden and Johns Hopkins University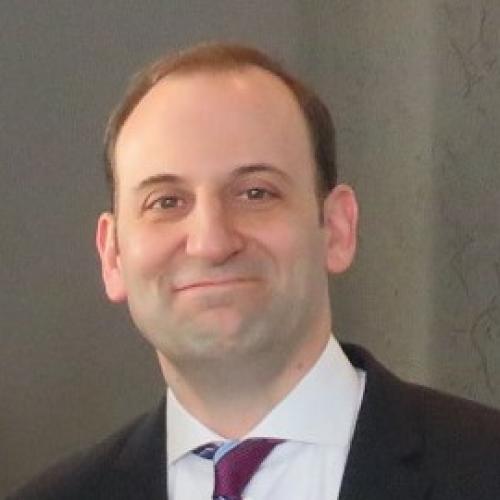 Carl Damiani
Former President and Chief Operating Officer of Transition Therapeutics, a NASDAQ listed human-focused biotechnology company acquired by OPKO Health in September 2016. Transition developed a Phase 2/3 Alzheimer's disease program, a Phase 2 diabetes program and held multiple partnerships with large pharma companies. Mr. Damiani founded Simini Technologies in 2017 to develop human drug candidates as veterinary therapeutics with an initial focus on dermatology and pain management.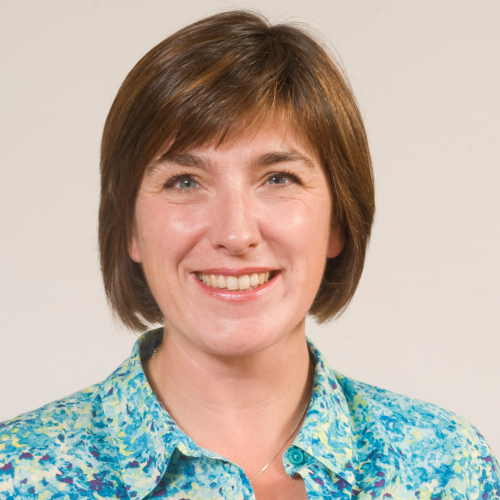 Clare Allen
Department of Veterinary Medicine
Clare is Deputy Director of Teaching (Quality Assurance) in the Department of Veterinary Medicine at the University of Cambridge, where she oversees quality assurance of veterinary teaching in the university. She has also chaired taskforces to develop a curricular thread on professional skills and introduce pedagogical innovation through the use of learning technology throughout the professional veterinary course. Clare graduated from the University of Cambridge in 1996 and after completing an equine ambulatory internship at Millbrook Equine Practice in New York she started teaching on an equine studies programme and founded her own equine practice.
In 2005-06 Clare taught at Cornell University College of Veterinary Medicine and became interested in veterinary education and curriculum development. Clare completed her PhD in Higher Education and Student Affairs at the Ohio State University in 2013, with her doctoral research focusing on the career choice of veterinary students in the context of the feminisation of the profession.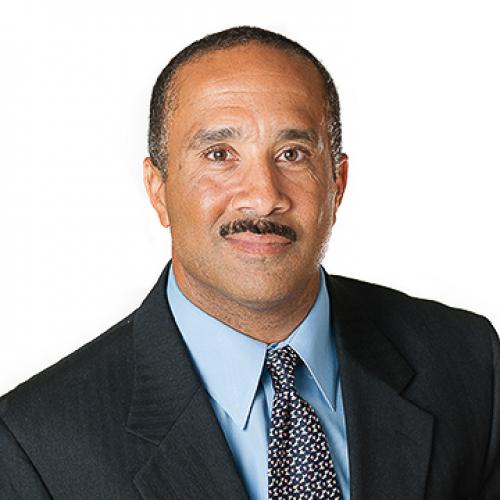 Clinton Lewis
Executive Vice President, President, International Operations
Clint Lewis is executive vice president and president of International Operations at Zoetis. In this role, he oversees the management of the livestock and companion animal business markets outside the United States.
Mr. Lewis previously served as president, U.S. Operations at Zoetis and in the Pfizer Animal Health organization. He joined Pfizer Animal Health in 2007.
Mr. Lewis joined Pfizer in 1988 as a sales representative in Long Island, N.Y., and has held positions of increasing responsibility in several areas across various commercial operations dedicated to human health prior to joining animal health, including vice president and general manager of Pfizer's U.S. Anti-Infectives/HIV business unit.
In 2011, Mr. Lewis was elected chairman of the Animal Health Institute (AHI) for the 2011-12 term. A member of AHI since 2007, Mr. Lewis previously served as AHI vice chair for the 2009-2010 term. AHI is the trade association for the animal health industry in the U.S. advocating on various issues important to the industry, including efficient and effective regulatory and approval processes by the U.S. Department of Agriculture (USDA), the Food and Drug Administration (FDA), and the Environmental Protection Agency (EPA).
Mr. Lewis holds a bachelor's degree in biology from Fairfield University and a Master of Business Administration in marketing from Fairleigh Dickinson University.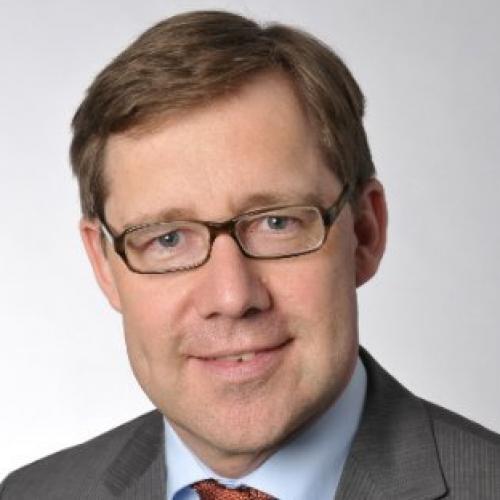 Dirk Ehle
Head of Bayer Animal Health
Dr. Dirk Ehle has been a member of the Bayer HealthCare Executive Committee and responsible for the Animal Health Division since May 1, 2012.
Dirk Ehle was born on May 26, 1969, in Cologne, Germany. He studied law at the universities of Freiburg, Aix-en-Provence (France), Wurzburg, and New York (USA).
After three years in law firms, Dirk Ehle started his career at Bayer in 2001 in the Law Department of Bayer HealthCare. In 2006, Ehle transferred to Bayer AG's Corporate Office where he worked as Executive Assistant to the Chairman of the Board of Management. He was also in charge of Corporate Policy & Advocacy as of 2008. In 2010, Ehle was appointed Senior Bayer Representative for Central Eastern Europe and Bayer HealthCare Representative for Poland.
Dirk Ehle is married with three children.
Erwin Blomsma
Erwin Blomsma holds a Master's degree in Bioscience Engineering and a Ph.D. in Applied Biological Sciences (1995) from KU Leuven in Belgium. After post-doctoral studies at UCB he started his career at Janssen Pharmaceutica in 1996 with a focus on assessing and implementing new technologies. In 2000, he co-founded Crystallics, a spin-off from the University of Leiden (NL) specializing in preformulation research. Crystallics was absorbed by Avantium Technologies in 2001, and he was appointed Chief Operating Officer there in 2004, playing a key role in making the company cash-positive. In 2007, Dr Blomsma joined Dr Stefaan Wera and Professor Johan Neyts as co-founder and CEO of Okapi Sciences and after a series A of 8.5 million EUR end of 2008 the team developed a pipeline of 7 products (2 in pivotal clinical trials) and signed a license deal with Novartis Animal Health in 2013. Okapi Sciences was then acquired by Aratana Therapeutics for 44 million USD in January 2014. From the acquisition to August 2015 he was the General Manager of Aratana Therapeutics NV in Belgium and Vice President of Aratana Therapeutics, Inc. In 2015, Erwin Blomsma co-founded ViroVet. In 2016 ViroVet raised 5 million USD in a series A financing round. Erwin Blomsma is CEO at ViroVet and also the current Chairman of FlandersBio, a cluster organization representing over 350 life sciences companies in Flanders, Belgium.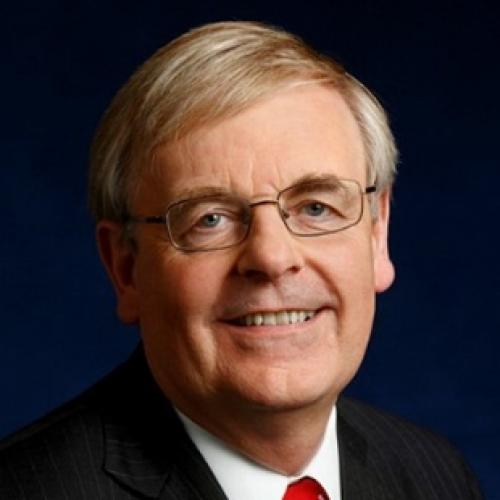 Gudrun Ravetz
British Veterinary Association
Currently Gudrun works as a Veterinary Consultant to Pet Health Plans from Denplan and as an external interviewer for prospective veterinary students at University of Liverpool. Alongside practicing as a small animal veterinary surgeon on graduating in 2002, Gudrun furthered her interest in the business side of the veterinary profession by studying for the post graduate certificate in business. Gudrun became President at the BVA Member's Day and AGM on 22 September 2016.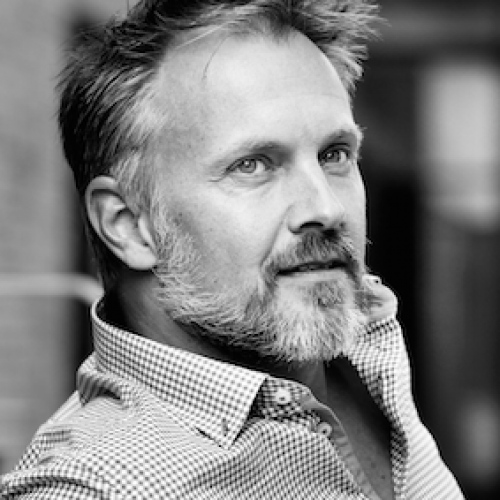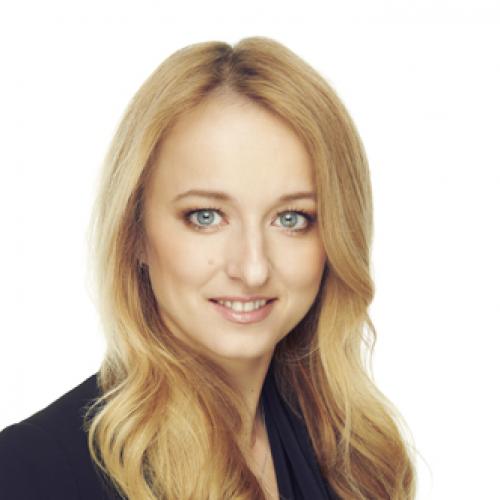 Irina Haivas
Irina is a healthcare specialist with a background in medicine and management consulting. She previously spent seven years with Bain & Company, where she was a leader in the European healthcare practice, and brings a wealth of experience across Europe, the US and emerging markets to the firm. Irina has advised multiple private equity funds on healthcare due diligence and post-acquisition projects, and has worked directly with pharmaceutical, biotechnology, and healthcare services companies on strategic initiatives including growth, business models, R&D and innovation, M&A, organisational development and operational improvement.
Irina is a medical doctor with a first-in-class degree and experience across multiple healthcare systems. She studied medicine at Iasi Medical University in Romania and Freiburg University in Germany as a Rotary Scholar, and was a visiting surgical fellow at Harvard Medical School. She also holds a MSc in International Health Policy from London School of Economics where she graduated with distinction. A native Romanian speaker, Irina is fluent in English and German and is conversational in French and Italian.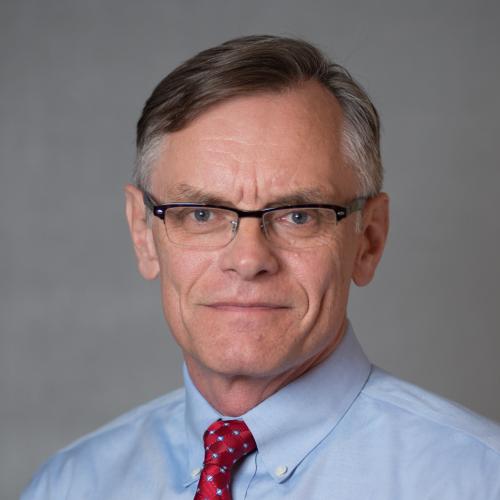 James M. Wilson
Professor, Gene Therapy Program
University of Pennsylvania
James M. Wilson, MD, PhD is a Professor in the Perelman School of Medicine at the University of Pennsylvania where he has been at the nexus of the field of gene therapy from its birth. Dr. Wilson began his work in gene therapy during his graduate studies at the University of Michigan over 30 years ago. He created the first and largest academic-based program in gene therapy after being recruited to Penn in 1993, initially focusing on the clinical translation of existing gene transfer technologies but soon redirecting his efforts to the development of second and third generation gene transfer platforms, the first of which was licensed to a biotechnology company he founded that resulted in the first, and only, commercially approved gene therapy in the western hemisphere.
More recently, his laboratory discovered a family of viruses from primates that could be engineered to be very effective gene transfer vehicles. Dr. Wilson has also been active in facilitating the commercial development of these new gene therapy platforms through the establishment of several biotechnology companies. He is currently leading a national dialogue on the challenges of commercializing these potentially lifesaving treatments due to the disruptive nature they will have on traditional business models. Throughout his career, the focus of Dr. Wilson's research has been rare inherited diseases, ranging from cystic fibrosis to dyslipidemias to a variety of metabolic disorders. He is the founder of a 501(c)3 called Health Through Fitness in Orphan Diseases and Director of a bicycle team called Rare Disease Cycling whose participants compete at a national level and help raise money for rare disease research.
Dr. Wilson has published over 550 papers, reviews, commentaries and editorials in peer-reviewed literature and is an inventor on over 117 patents. He was the second President of the American Society of Gene Therapy, the 2014 recipient of the William Osler Patient Oriented Research Award of the University of Pennsylvania and 2015 recipient of the Scientific Achievement Award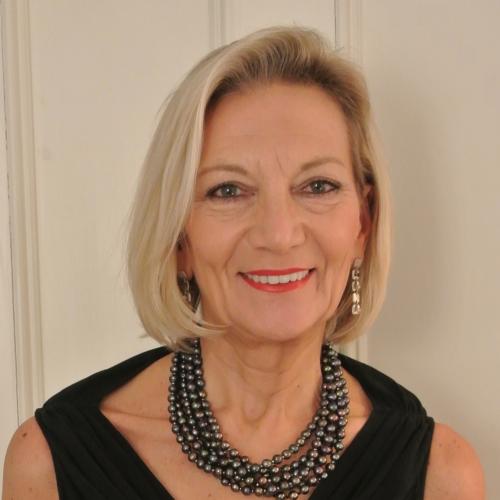 Jenny Tooth
UK Business Angels Association
Jenny is CEO of the UK Business Angels Association, the trade body for angel and early-stage investing, representing over 18,000 investors around the UK. Jenny has over 20 years' experience of facilitating SMEs' access to investment, both in the UK and internationally. She ran her own consultancy on access to finance for SMEs, including spending nine years based in Brussels, working closely with the EC. In 2009, Jenny co-founded Angel Capital Group which incorporates London Business Angels, one of the most established and active angel networks in the UK.
Jenny is an angel investor and in her role at UKBAA she focuses on building the angel community around the UK, connecting investors to good deal flow and assisting entrepreneurs to attract investors. Jenny sits on the steering group for emerging technologies and innovations for Innovate UK and the advisory board for the London Co-Investment Fund. Jenny is an experienced speaker on angel investing and entrepreneurship both in the UK and internationally. She has an MSc in Economics from the London School of Economics and Political Science. Jenny was awarded an OBE in 2015 for services to small businesses.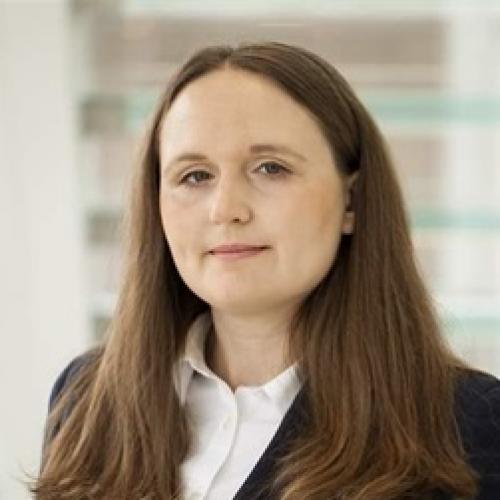 Karin Hoelzer
Senior Officer, Health Programs
The Pew Charitable Trusts
Karin Hoelzer is a senior officer in health programs supporting Pew's safe food and antibiotic resistance projects. Hoelzer, a veterinarian by training, focuses on research and policies related to foodborne pathogens, the use of antibiotics in animals, and other public health risks related to the food supply.
Before joining Pew, Hoelzer worked at the U.S. Food and Drug Administration, where she developed and led risk assessments and conducted systematic reviews and meta-analyses on a variety of issues, such as drug residues in dairy products and Listeria monocytogenes in retail delicatessens. Previously, she was a research associate at Cornell University, where she traced the transmission of pathogens between livestock and humans.
Hoelzer holds doctorates in veterinary medicine from the University of Veterinary Medicine in Hannover, Germany and comparative biomedical sciences from Cornell University. She has received numerous honors and awards, including a Morris Animal Foundation fellowship training grant, and is the author of many peer-reviewed publications. Hoelzer is a member of the American Veterinary Medical Association, the Society for Risk Analysis, and the International Association for Food Protection. She serves as scientific editor for the Elsevier journal Research in Veterinary Science.
Kathrin Ladetzki-Baehs
Dr. Kathrin Ladetzki-Baehs joined MorphoSys > 10 years ago as a scientist. Following several years of intense laboratory work in antibody generation as a project team leader, she became an alliance manger in 2012.
Today, Kathrin (Director at MorphoSys) coordinates multiple therapeutic antibody projects in close collaboration with international external partners at MorphoSys.
Kathrin is a pharmacist and received the PhD from Ludwig Maximilians University Munich. Two dogs are beloved family members in Kathrin's home. As one the dogs got diagnosed with canine cancer, Kathrin came up with the idea to transfer the whole expertise and knowledge of phage display, library generation and antibody generation from MorphoSys into the veterinary field. Since then she is responsible for all activities necessary to found adivo.
Kevin S. Wilson
Chief Executive Officer and President
Kevin S. Wilson has been Chief Executive Officer and President of Heska Corporation (HSKA: NASDQ) since March 31, 2014. He previously served as President and Chief Operating Officer since February 2013. Heska is based in Loveland, Colorado, has approximately 350 employees primarily throughout North America, and is dedicated to veterinary healthcare through its companion pet and equine diagnostics (blood and imaging) business and its vaccines, pharmaceuticals, and biologics segment. Since 1992, Mr. Wilson has been involved in developing technologies for imaging devices and data management in the veterinary medical space. Mr. Wilson is a founder, member and officer of Cuattro, Cuattro Medical, and Cuattro Software. In 1996, Mr. Wilson founded Sound Technologies, Inc., a veterinary diagnostic imaging company, which was sold to VCA Antech, Inc. (WOOF) in 2004, following which Mr. Wilson served as Chief Strategy Officer for VCA Antech, Inc. until 2006. Mr. Wilson resides in Beaver Creek, Colorado with his wife of 25 years and their four children (the origin of the Cuattro name being "four"). Mr. Wilson serves and has served on the board of various private, non-profit, and educational organizations.
Linda Rhodes
Independent and ex- CSO of Aratana Therapeutics
Dr. Rhodes has 28 years of accomplishments in human and animal drug discovery, development, biomedical research, and clinical veterinary medicine.
Dr. Rhodes was educated at the University of Pennsylvania School of Veterinary Medicine (VMD) and Cornell University (PhD). She has 28 years of accomplishments in human and animal drug discovery, development, biomedical research, and clinical veterinary medicine. She has an extensive background in physiology, veterinary medicine, and molecular biology. As a senior research fellow at Merck Research Laboratories for 10 years, she led pre-clinical biology evaluation of several marketed human drugs. Dr. Rhodes practiced clinical veterinary medicine for five years, with experience in both companion and farm animal practice. She worked for Merial Ltd. as director of development projects, leading project teams developing novel compounds for a variety of indications and headed new technology assessment, leading the evaluation of licensing opportunities. In April 2001, she formed AlcheraBio, a consulting, marketing, communications and contract research firm specializing in developing new drugs for animals, working with biotechnology and animal health companies, with clients in the US, European Union, Canada and Australia. AlcheraBio was acquired in 2008 by Argenta, and in 2011, Dr. Rhodes accepted a position as CEO of Aratana Therapeutics, a company developing innovative new medicines for dogs and cats, and subsequently, when the company became public (PETX) served as its Chief Scientific Officer. During her tenure, development was completed on three new pet therapeutics: two new molecules with novel mechanisms of actions were approved by the FDA, and a third drug had FDA registration completed and was approved in August, 2016. She is currently retired and an independent consultant. She is a member of the Board of Directors of ImmuCell (NASDAQ: ICCC) and the Alliance for Contraception in Dogs and Cats, serves on the Scientific Advisory Board of the Found Animals Foundation. She is an adjunct faculty member in the Graduate Animal Science program at Rutgers University.
Marie-Paul Lachaud
Head of Program Management, Europe
Aratana Therapeutics, Inc
Marie-Paul Lachaud, DVM is Head of Program Management Europe at Aratana Therapeutics. Her responsibilities include coordinating the process leading to regulatory approval by the European Medicines Agency for Aratana's products targeted at unmet medical needs in cats and dogs.

Prior to joining Aratana, Dr. Lachaud served the veterinary pharmaceutical industry as an experienced consultant, with a specific focus on international drug clinical development.

From 2000 to 2008, Dr. Lachaud was the European animal health director at ICON Clinical Research in Paris, France. In 1990, she co-founded PROTOCOLE, the first European veterinary consultancy and contract research organization focused on drug clinical development and regulatory affairs, which was acquired by ICON in 2000.

Dr. Lachaud has been involved in transitioning human drugs to meet unmet needs in veterinary medicine for years. Her work has resulted in significant animal health product approvals in Europe and the United-States for companion animals in a number of innovative therapeutic areas, including reproduction, chronic heart failure, chronic kidney disease, pain management, oncology and neurobehavioral disorders.

She received her veterinary degree from Alfort National Veterinary School in Paris and her doctorate in veterinary medicine from the University of Paris, France.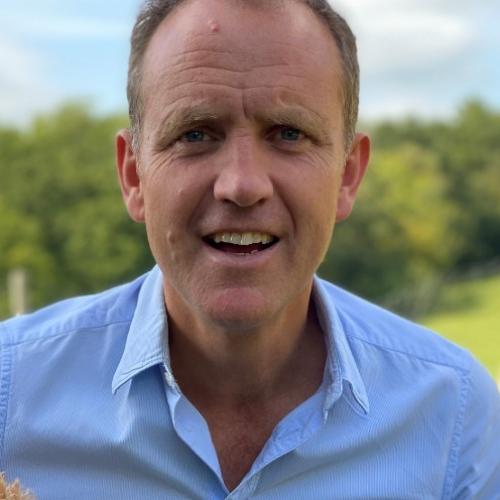 Matt Dobbs
Global Chief Medical Officer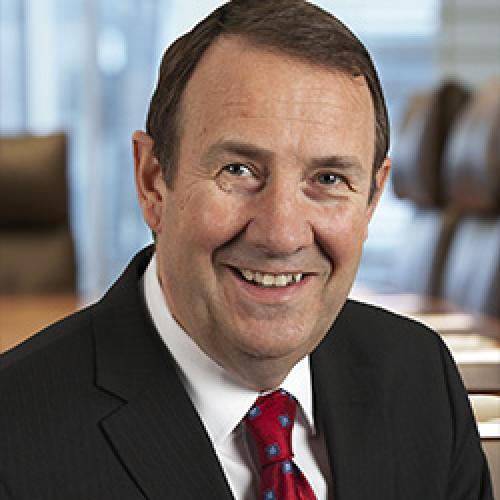 Peter McCarthy
Practice Leader Commercial & Strategy
Mr. McCarthy is now in his 7th year at Henry Schein, Inc. He is currently the Company's President, Global Animal Health Group, as well as a member of Henry Schein's Executive Management Committee.
Mr. McCarthy oversees Henry Schein's animal health business, which spans 24 countries including the United States, Australia, New Zealand, Canada, China, Malaysia, Brazil and 17 countries in Europe.
Before assuming his current position, Mr. McCarthy held key roles at Henry Schein with increasing responsibilities, including President, Henry Schein Animal Health, Europe, and President, Henry Schein Animal Health, International.
Prior to joining Henry Schein, Mr. McCarthy worked at Schering-Plough Animal Health (now Merck Animal Health), serving as Senior Director, Global Operations and General Manager, China. Mr. McCarthy also worked at Wyeth/American Cyanamid for 14 years, helping to grow the human pharmaceutical business.
Mr. McCarthy holds a degree in Applied Biology from the University of Hertfordshire in the U.K., and previously has served as a Member of the Board of the International Federation for Animal Health Europe, and the International Association Executive Animal Health Study Center, CEESA, based in Belgium. Mr. McCarthy is also a graduate and member of the Chartered Institute of Marketing (CIM), which is located in the U.K.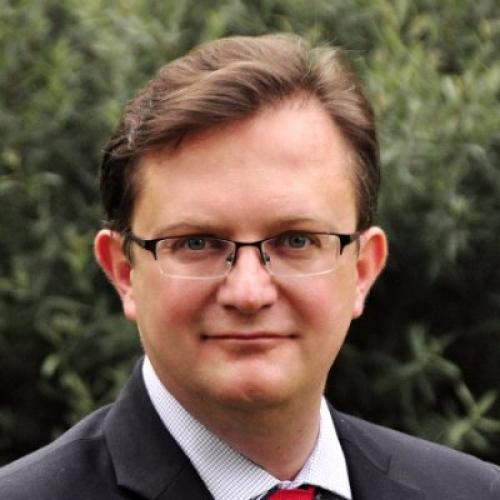 Randolph Seidler
VP, Global Head of Business Development Animal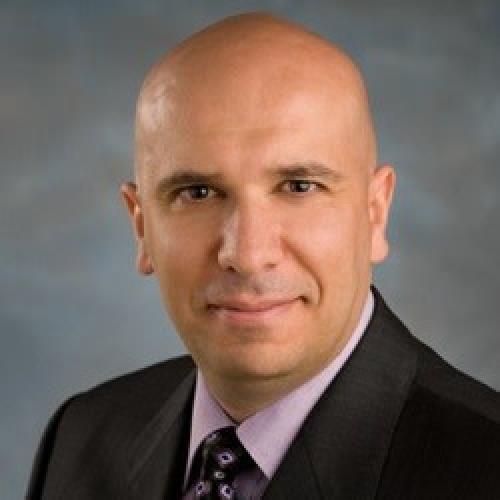 Sam Al-Murrani
Babylon BioConsulting LLC
Babylon BioConsulting LLC is a human and animal health-based consultancy firm specializing in pre-revenue and early stage valuations of Animal Health and Biotech companies and providing clients with investor outreach, due diligence, business development and intangible asset management and valuation services. Dr. Sam Al-Murrani is also Managing Director for Bimini LLC, a privately owned manufacturer of pet dose-form health supplements and health treats.
Dr. Al-Murrani has a B.Sc. in Animal Science from the University of Edinburgh and a Ph.D. in Immunology/Biochemistry from the Roslin Institute and the Department of Veterinary Pathology at the University of Edinburgh. He holds an M.B.A. in Finance from Baker University.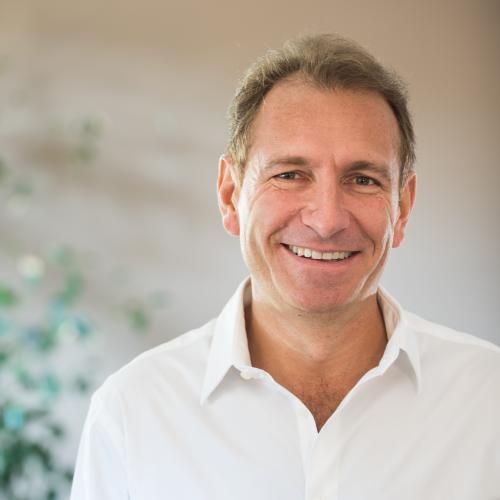 Sébastien Huron
Chairman of the Executive Board
Sébastien Huron, 46, DVM, started his career in 1994 in Brazil in the Hoechst-Roussel group where he rapidly rose to become the Marketing director of the animal health division. After Intervet acquired this division (Akzo Nobel group), which was then integrated into the Merck Group, Sébastien Huron pursued his career in 2000 in the United States as Market Development director, and then as director of the Pet division. After rejoining the Virbac group in 2006 as the general manager of the Spanish subsidiary, he then became the director of the European region in 2008, and then head of Global Business Operations in 2013. He has been part of the Virbac executive board since December 2012.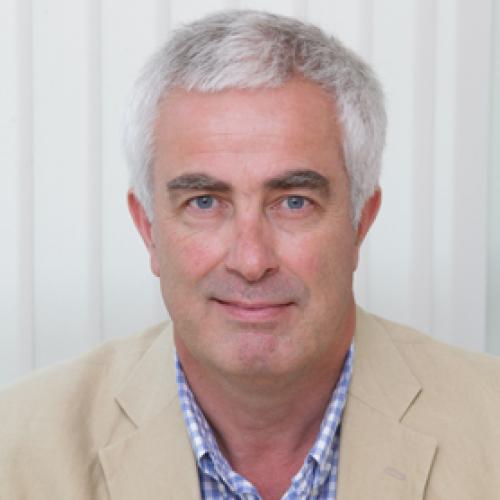 Simon Innes
Simon was appointed as Chief Executive in January 2004. Prior to this he was Chief Executive of Vision Express from 2000 to 2004, over which time he built the business up to £220m turnover and 205 practices, and reversed a loss-making position to create one of the most profitable corporate optical operators in the UK. The growth strategy that was successful at Vision Express is now being implemented in the veterinary industry by CVS.
Prior to Vision Express, Simon was on the board of Hamleys PLC as Operations Director and gained 10 years' management experience at Marks & Spencer. He also served seven years in the British Army, achieving the rank of Captain in the Royal Engineers.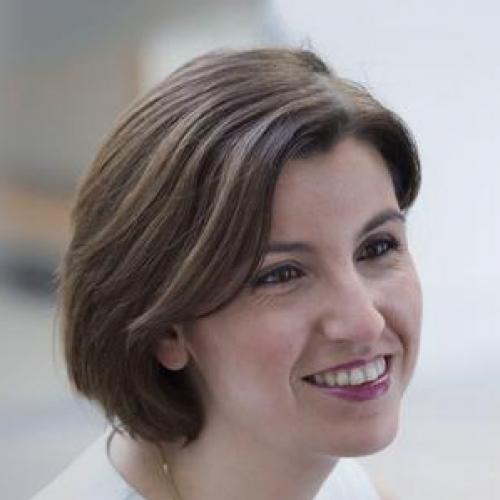 Sorina Casian Botez
Associate Director, Principal Investments
As part of the Principal Investments team, Sorina drives the strategy for Eight Roads' real estate portfolio and works with the management teams of healthcare portfolio investments and associated food and agriculture venture fund, Anterra Capital.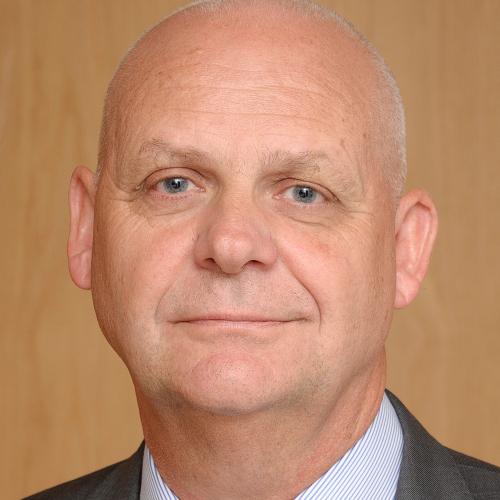 Viggo Halseth
Viggo joined Nutreco in 1984. He has a longstanding career in Nutreco and had various positions in marketing, general and business unit management within Skretting ARC and Skretting. Viggo studied Animal Hubandry at Agriculture University and Marketing and Strategy Development at Norwegian Business School.
Elanco
Elanco Animal Health (NYSE: ELAN) is a global leader in animal health dedicated to innovating and delivering products and services to prevent and treat disease in farm animals and pets, creating value for farmers, pet owners, veterinarians, stakeholders, and society as a whole. With nearly 70 years of animal health heritage, we are committed to helping our customers improve the health of animals in their care, while also making a meaningful impact on our local and global communities. At Elanco, we're driven by our vision of Food and Companionship Enriching life and our Elanco Healthy Purpose™ CSR framework – all to advance the health of animals, people and the planet.
Klifovet
KLIFOVET provides high quality services for the animal health and animal nutrition industry regarding the registration and marketing of all kind of veterinary products. We support ambitious young biotech and veterinary pharma companies on their way to the top by providing full business and product development management, regulatory affairs consultancy including dossier writing, compilation and submission, and full CRO services for safety and efficacy studies. We are proud on 18 years of experience, well organized logistics, a highly motivated team, and a comprehensive net of co-operators and skilled investigators throughout Europe, North America and the world. We handle large multinational projects as professionally as national ones, complying to national, EMA, EFSA or FDA standards.
NEW FOR 2018!
Kisaco Research have teamed up with Stonehaven Consulting AG to offer a FREE HALF-DAY OF CONSULTATION to each of the twelve emerging companies that will be selected to present.
Stonehaven Consulting AG are a premier consulting company that specialises in assisting ambitious clients wanting to commercialise new technologies or leverage growth opportunities. They will give one of their partners' services to each presenting company, for a full half day ahead of the conference.
This is an excellent opportunity, with the chance for each presenting company to focus on an area of their choice; for example:
Advice on how to select the right Business/Financing Partners
Building and telling a story which appeals to investors
Advice on how to improve or optimize your Animal Health Investment Europe conference presentation
Strategic considerations pertaining your business
and more…
Become a Partner
Kisaco Research provides the platform where industry executives can network, learn and meet potential industry partners.
Far from the typical 'meet-and-greet' experience, you – as a sponsor or exhibitor – will be positioned as a partner of the event with a focus on the benefits of your product and brand.
Your partnership with Kisaco Research will offer you a strategic approach that is an extension and enhancement of your own marketing and branding efforts. We value your ROI and will work with you directly on your specific goals and targets.
Find out more by calling us at +44 (0)20 3696 2920 or email [email protected]

About Kisaco Research
Kisaco Research produces, designs and hosts B2B industry conferences, exhibitions and communities – focused on a specialized selection of topic areas.
Meet industry peers that will help build a career-changing network for life.
Learn from the mistakes of your peers as much as their successes—ambitious industry stalwarts who are happy to share not just what has made them successful so far but also their plans for future proofing their companies.
Note down the inspired insight that will form the foundation for future strategies and roadmaps, both at our events and through our online communities.
Invest both in your company growth and your own personal development by signing up to one of our events and get started.